If you believe that God created the world and everything in it or that the "The earth is the Lord's, and everything in it," then it is not wonder that we will find in nature the things that will heal our Mind, Body and Soul!
Shea butter is one of Nature's wonders, but it is a special one. It has been used for millennia by many generations of African people for skin care, baby care, healing and food. The Shea tree is considered sacred because of the bounty of goodness it can do for your skin, hair, beauty and health.
Now with that said, combine the benefits of coconut oil and your skin will be rejuvenated from many of the most common skin ailments. Yes, I must legally inform you in part that "These statements have not been evaluated by the Food and Drug Administration and that my statement is "not intended to diagnose, treat, cure or prevent any disease", but my personal experience and the feedback from my customers, tell me that my statements has some factual basis.
Shea butter and coconut oil are two ingredients that are commonly used in Kiss MeNature products. In fact it is the two main ingredients in our body butters, lip balms and hair care products. They are both excellent emollients and moisturizers, each has its own distinct benefits owing to antioxidants and other healing compounds. Additionally, they both act as a natural sunscreen, when applied appropriately. Despite the fact that some from the medical community may argue otherwise, as I mentioned in m earlier post, coconut oil was applied on my skin before I went to the beach. I still apply coconut oil when I visit tropical islands, and the benefits to my skin are fabulous. I will be traveling to Bali in the very near future and I intend to prepare all of my skin protectants using coconut oil and Shea butter. This will include, bug repellent (YES bug repellent), sunscreen, and of course moisturizer for my skin. (Check out our next blog for the recipes).
So let's look at what coconut oil and Shea butter actually does for the skin:
Shea Butter
Shea butter, derived from the nuts of the Karite tree, contains fatty oils that provide intense moisturizing capability. It is rich in vitamins C and E which help to neutralize sun damage, and has been known to have anti-inflammatory properties that help treat topical skin conditions such as dermatitis.
Coconut Oil
The fatty acids in coconut oil work as a reinforcing barrier on the skin, sealing moisture in for intense, long-lasting hydration. It also contains high quantities of lauric acid, which can be used to treat viral, fungal and bacterial skin conditions like warts, athletes foot or acne.
Let's take a deeper look as to the benefits of Shea Butter:
What makes Shea butter an extraordinary skin care and an amazing body healer is its richness in precious constituents, which include unsaturated fats with a large proportion of "unsaponifiables" components, essential fatty acids, phytosterols, vitamin E and D, provitamin A and allantoin. All these are natural and make Shea butter a superfood for your skin (and hair), but that is not all it can do for you because it is:
Wrinkles, fine lines and scars repairing
Antioxidant
Anti-inflammatory
Deeply moisturizing
Stimulating for the superficial microcirculation
Skin strengthening
Skin protecting
UV protecting
Skin regenerating
Collagen production stimulating (makes the skin stronger, more supple and younger)
Minor cuts and burns healing
Muscle ache healing
Physical endurance enhancer
Now the benefits of Coconut Oil:
More than ninety percent of coconut oil consists of saturated fats (Don't panic! It's not as bad as it sounds, read to the end of this review and your opinion may change), along with traces of few unsaturated fatty acids, such as monounsaturated fatty acids and polyunsaturated fatty acids. Virgin coconut oil is no different from this.
Saturated fatty acids: Most of them are medium chain triglycerides, which are supposed to assimilate well in the body's systems. Lauric acid is the chief contributor, representing more than forty percent of the total, followed by capric acid, caprylic acid, myristic acid and palmitic.
Polyunsaturated fatty acids: Linoleic acid.
Monounsaturated fatty acids: Oleic acid.
Poly-phenols: Coconut contains Gallic acid, which is also known as phenolic acid. These polyphenols are responsible for the fragrance and the taste of coconut oil and Virgin Coconut Oil is rich in these polyphenols.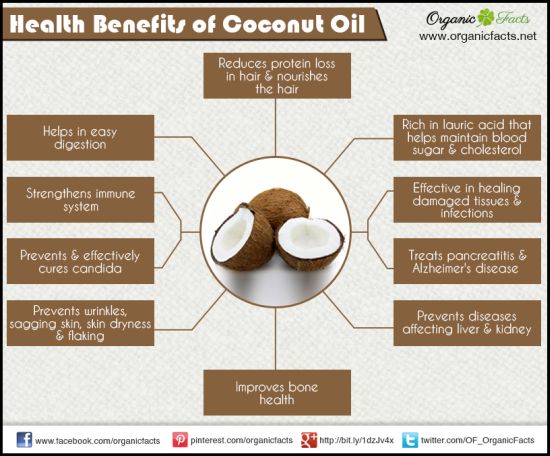 Its no wonder when one of our customers used one of Kiss Me Nature's body butters, they thought it was "A Miracle!!!!!" She told us "I used to hate my feet, they were dry and cracked, I am diabetic you know…" "But I put this on my feet and my feet are healed!!!"
It is because of these wonderful benefits that Kiss Me Nature Body Butters are our company's best selling item.
Our best sellers is are Our Relaxing Lavender Body Butter and our Juicy Mango
Let me share my site with you: www.etsy.com/shop/kissmenature. Hope to see you there!!!
Dominique